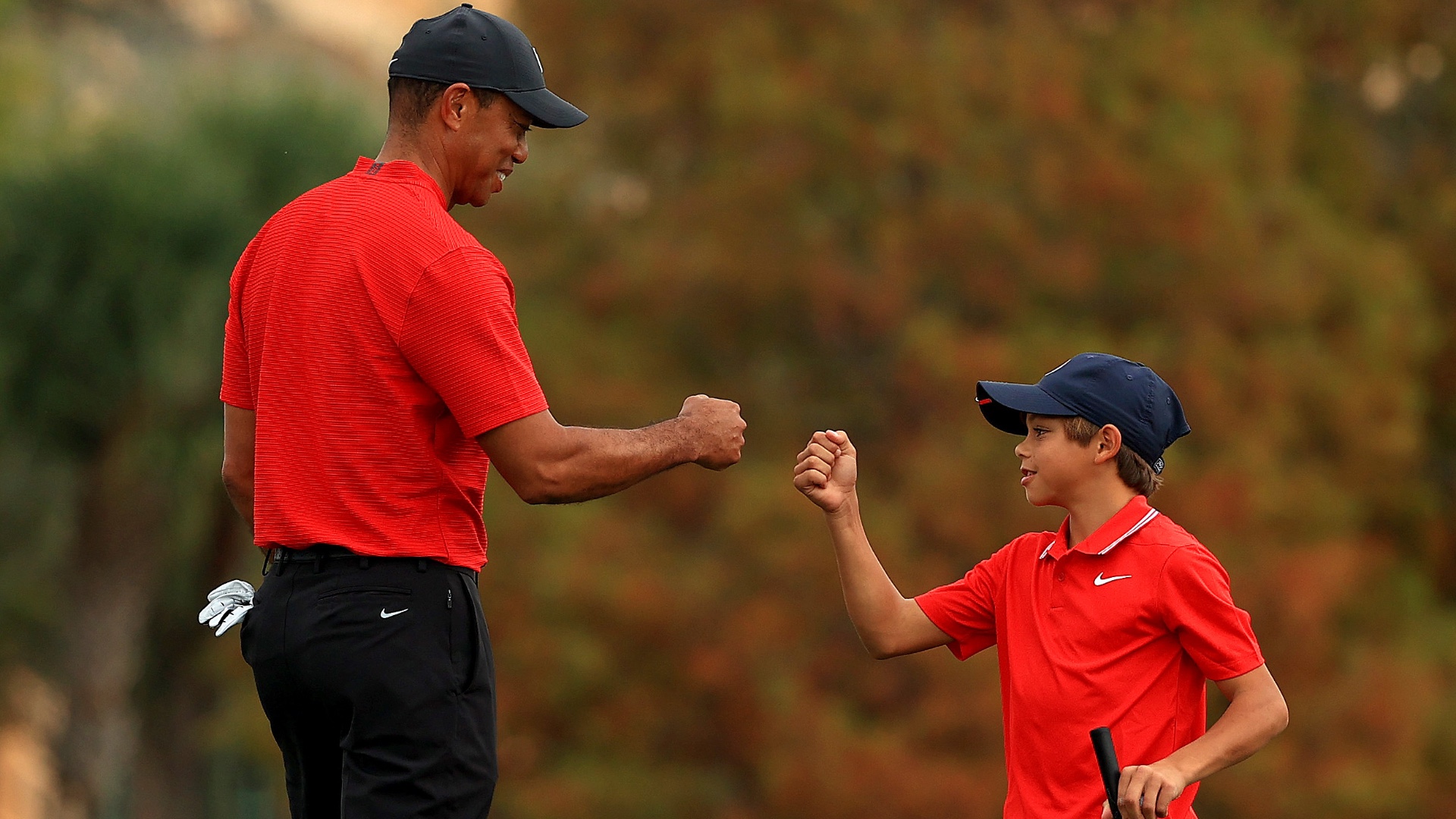 The moment the golf world has been waiting for is finally here: Tiger Woods returns to golf after his serious car accident in February.
Woods will play with his 12-year-old son Charlie Woods in the 2021 PNC Championship, which is also known as the father-son golf tournament. This event is known for famous golfers who pair up with their sons or parents, or even their daughters, to compete against each other. It lasts two days over 36 holes.
The last time Woods played a professional tournament was last year's PNC Championship. Woods' father-son duo finished seventh, which is pretty good for Charlie's PGA debut. He is one of the youngest contestants in the event.
Two weeks ago, Woods hosted the Hero World Challenge and made his first public appearance since his car accident. Before the tournament, he posted a video on social media of him hitting a golf club. All of these things got fans excited to see if Woods would return to golf. Speaking to the media, Woods said that he doesn't think he will be on the PGA Tour as a full-time participant again, but that he looks forward to playing here and there. However, he gave no indication that he would be back anytime soon. So when he announced that he would be playing in the PNC Championship, fans were shocked.
Woods will also play in the pro-am event on Friday, but Charlie will not participate in the pro-am. There is also a Thursday pro-am, but Woods will not participate in that round. He will play with Charlie on Saturday and Sunday.
Here's everything you need to know to tune in and watch Woods return to golf, including television schedule, live streaming options, and tee times.
Watch the PNC Championship Live
dates: Thursday, December 16 to Sunday, December 19
TV channels: NBC, golf channel
Live broadcasts: Peacock Premium, golfchannel.com, fuboTV
Golf Channel, NBC and Peacock Premium will be broadcasting at different times of the PNC Championship. Rounds on Friday will be on Golf Channel only. The rounds on Saturday and Sunday will begin on Peacock Premium, then will be shown on Golf Channel and then will end on NBC. Thursday's pro-am round will not be televised, but that is the only round that Woods will not participate in.
Premium peacock It costs $ 4.99 per month and also offers a seven-day free trial.
Rounds streamed on the Golf Channel can also be streamed on their website, golfchannel.com, if you have a cable subscription to log in. Additionally, viewers can stream the PNC Championship live on fuboTV, offering a free seven-day trial.
| | | |
| --- | --- | --- |
| Date | Time (ET) | TV coverage |
| Friday December 17 | 12: 30-2: 30 pm | Golf channel |
| Saturday, December 18 | 12: 30-1: 30 pm | Premium peacock |
| | 1: 30-2: 30 pm | Golf channel |
| | 2: 30-6: 00 pm | NBC, Peacock Premium |
| Sunday December 19 | 11:00 am to 12:00 pm | Premium peacock |
| | 12: 00-1: 00 pm | Golf channel |
| | 1: 00-4: 30 pm | NBC, Peacock Premium |
PNC Championship start times
Friday, December 17 (Pro-Am)
| | | |
| --- | --- | --- |
| Time (ET) | T-shirt # 1 | T-shirt # 10 |
| 8:00 am | Regan Cink, Stewart Sink | Paddy Harrington, Padraig Harrington |
| 8:20 am | Sean Lehman and Tom Lehman | Daniel Treviño, Lee Treviño |
| 8:40 am | Angie Watson and Bubba Watson | Jordan player, Gary player |
| 09 am | Tiger Woods, Matt Kuchar | Qass Singh, Vijay Singh |
| 9:20 am | Shaun O'Meara and Mark O'Meara | Greg Price, Nick Price |
| 9:40 am | Michael Watson, Tom Watson | Tanner Furyk, Jim Furyk |
| 10:00 am | Petr Korda and Nelly Korda | Brady Duval, David Duval |
| 10:20 am | Mike Thomas, Justin Thomas | John Daly, John Daly II |
Saturday, December 18 (First round)
This section will be updated when departure times are posted.
Sunday December 19 (Final round)
This section will be updated when departure times are posted.
PNC Championship Format
The PNC Championship is played in a "best ball" format. Therefore, all players will hit the first shot and then the best drive for their next shot will be selected. Then all players will take the second shot and the best ball will be selected once more. Each team will then have a ball in play during the round.
PNC Championship Purse
The PNC Championship portfolio is added to this year. The winning group will profit from the bag.
There are no world rankings or FedEx Cup points to worry about during the PNC Championship. The only thing that professional golfers win is money in this tournament.
Where is the PNC Championship in 2021?
The PNC Championship will be held at the Ritz-Carlton Golf Club in Sarasota, Florida.
Pair: 72
Distance: 7,414 yards
Previous PNC Championship Winners
| | |
| --- | --- |
| Year | Winner |
| 2020 | Justin Thomas and Mike Thomas |
| 2019 | Bernhard Langer and Jason Donald Langer |
| 2018 | Davis Love III and Dru Love |
| 2017 | Angel Cabrera and Angel Cabrera Jr. |
| 2016 | David Duval and Nick Karavites |
| 2015. | Lanny Wadkins and Tucker Wadkins |
| 2014 | Bernhard Langer and Jason Langer |
| 2013 | Stewart Cink and Connor Cink |
| 2012 | Davis Love III and Dru Love |
| 2008 | Larry Nelson and Drew Nelson |
| 2007 | Larry Nelson and Josh Nelson |
| 2006 | Bernhard Langer and Stefan Langer |
| 2005 | Bernhard Langer and Stefan Langer |
| 2004 | Larry Nelson and Drew Nelson |
| 2003 | Hale Irwin and Steve Irwin |
| 2002 | Craig Stadler and Kevin Stadler |
| 2001 | Raymond Floyd and Robert Floyd |
| 2000 | Raymond Floyd and Robert Floyd |
| 1999 | Jack Nicklaus and Gary Nicklaus |
| 1998 | Bob Charles and David Charles |
| 1997 | Raymond Floyd and Raymond Floyd Jr. |
| nineteen ninety six | Raymond Floyd and Raymond Floyd Jr. |
| nineteen ninety five | Raymond Floyd and Raymond Floyd Jr. |