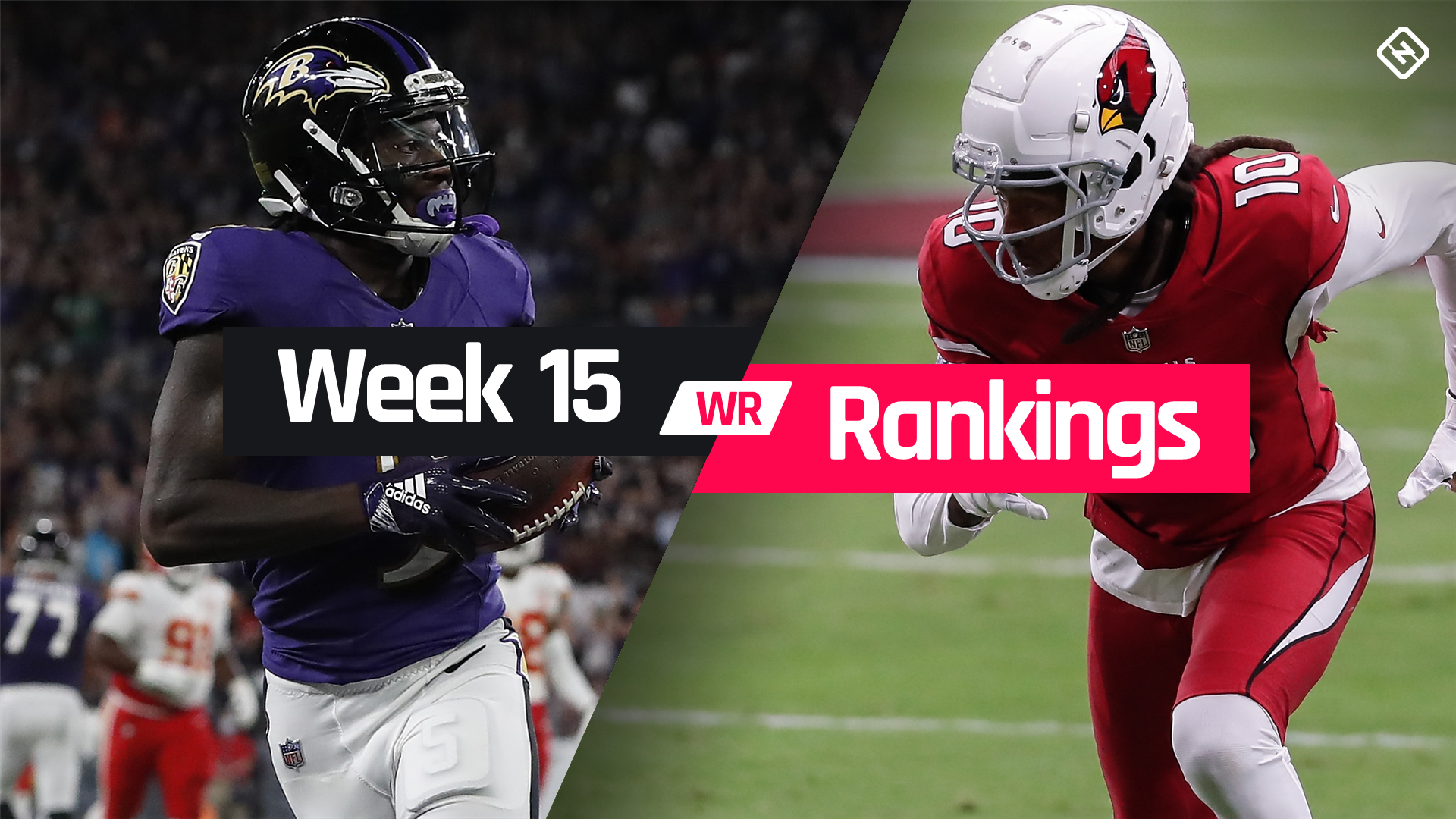 Rank
Player
1
Cooper Kupp, LAR vs. SEA
2
Justin Jefferson, MIN @ CHI
3
Davante Adams, GB @ BAL
4
Mike Evans, TB vs. NO
5
Deebo Samuel, SF vs. ATL
6
Chris Godwin, TB vs. NO
7
Diontae Johnson, PIT vs. TEN
8
CeeDee Lamb, DAL @ NYG
9
Tyreek Hill, KC @ LAC
10
Jaylen Waddle, MIA vs. NYJ
11
Keenan Allen, LAC vs. KC
12
Amari Cooper, DAL @ NYG
13
Brandin Cooks, HOU @ JAX
14
Terry McLaurin, WAS @ PHI.  We'll see if McLaurin (concussion) plays, but considering he's been the only Washington WR with real upside, we rank him as a high-end WR2 even in one of the toughest matchups for WRs. Taylor Heinicke (knee) is expected to be fine, but if Kyle Allen starts, McLaurin will move down the rankings some.
15
Stefon Diggs, BUF vs. CAR.  Diggs has been steady but rarely elite this season, so in a matchup with a top-six unit against fantasy WRs, it's tough to view him as a WR1, though that is obviously always a possibility. Whether Emmanuel Sanders (knee) plays or not, his recent production suggests he's best suited for the bench. Cole Beasley can always be considered in PPR leagues, while Gabriel Davis is a pure boom-or-bust option.
16
DeVonta Smith, PHI vs. WAS.  Smith is about as inconsistent as any receiver, but Washington gives up the third-most fantasy points to WRs, so it would be tough to bench him this week. Smith has busted in favorable matchups and boomed in tough matchups, so you never know what you're going to get, but his upside is a WR1 finish.
17
Julio Jones, TEN @ PIT.  Jones finally returned in Week 14 against the Jags, and although he didn't have a great fantasy day, he looked healthy and we think he can build off of that here. The Titans' game plan was ultra-conservative against the lowly Jags, but as Jones settles in, we're suggesting starting him in a top-10 WR-friendly matchup against the Steelers. A.J. Brown (chest) is not eligible to return this week.
18
Tyler Lockett, SEA @ LAR.  Is the Russell Wilson to Lockett connection back? It's looking that way, so Lockett regains his boom-or-bust status for the rest of the season. Since his "boom" can often net north of 25 fantasy points, you can no longer consider benching him, if you did in the first place. If you're someone who worries about the coverage of Jalen Ramsey, DK Metcalf is the guy Ramsey has historically shadowed, so don't worry about that with Lockett. Metcalf has been a dud over the past month or so, but his upside is ultimately tough to bench, too.
19
Ja'Marr Chase, CIN @ DEN.  After a stretch of fairly quiet weeks, Chase reminded us of his upside against the 49ers, catching five-of-eight targets for 77 yards and two touchdowns. He's a big-play star with a sky-high upside, so although Denver has been successful stopping WRs, he can't be benched, either. Tee Higgins has also shown enough to be started in all matchups, too. 
20
Brandon Aiyuk, SF vs. ATL.  Since Week 9, Aiyuk has exceeded 12 PPR fantasy points in four-of-six games. with a high of 21.5. If you haven't already noticed, he's firmly out of the doghouse he was in early in the season, so we trust him in a matchup with one of the league's worst secondaries. Like Jimmy G and all 49ers pass-catchers, his fantasy prospects could be diminished if the Niners implement a nearly "run-only" offensive game plan. The upside is there though, so that's a risk worth taking.
21
Chase Claypool, PIT vs. TEN.  Despite his latest criticisms, Claypool has come on in recent weeks, drawing at least eight targets in three of his past four games, and posting at least 82 yards in said games. Since Tennessee has had one of the worst defenses against fantasy WRs all season, Claypool's upside is sky high in a pass-heavy offensive attack.
22
A.J. Green, ARI @ DET
23
Darnell Mooney, CHI vs. MIN.  After two explosive performances in Weeks 11 and 12, Mooney was dead silent in Weeks 13 and 14. However, the latter matchups were tough for WRs, while the first two were favorable. All things considered, we'll need to view Mooney as extremely matchup dependent. Minnesota is the second-worst defense against fantasy WRs, and since Justin Fields looks to be turning the corner at QB, we're calling on Mooney as a decent option heading into the fantasy playoffs. The matchup is strong enough to consider Allen Robinson, but only in standard leagues, and do so at your own risk.
24
Hunter Renfrow, LV @ CLE.  Over the past three games, Renfrow is averaging 10 catches and 117.6 receiving yards and has outproduced several "stud" WRs. He's an elite PPR option, but we're not confident he can keep up the yardage totals in a tough matchup with the Browns. Ultimately, the Raiders' time of possession should be limited by the Browns' high-powered rushing attack, so there's a worry the volume won't be nearly the same in this contest. He's played well enough to be a must-start, but we expect a regression with a low-end WR2 finish in standard leagues. As always, DeSean Jackson is a boom-or-bust play.
25
DK Metcalf, SEA @ LAR.  See Tyler Lockett.
26
Mike Williams, LAC vs. KC.  Williams is a boom-or-bust play who was outproduced by Josh Palmer and Jalen Guyton in Keenan Allen's absence, but he's another guy who is tough to bench with a sky-high ceiling. The Chiefs are statistically strong against WRs, but Justin Herbert is rolling and this passing offense is far too explosive to worry too much about matchups. Williams is a better standard-league play, but again, it's tough to bench him in any format. We don't view Guyton or Palmer as viable options with Allen (reserve/COVID) expected back, but Guyton could be used as a deep league boom-or-bust dart throw.
27
Jerry Jeudy, DEN vs. CIN.  Jeudy's ceiling is low, but he's demonstrated a decent floor over the last two games, catching at least 4 passes for 47 yards in both contests. His upside should be higher in a matchup in which Teddy Bridgewater should have to do more than just manage the game, but a low-end WR2 finish is about all we can hope for. We're done considering Courtland Sutton as an option in any format after a one-catch performance against Detroit. The same can be said for Tim Patrick.
28
Tee Higgins, CIN @ DEN.  See Ja'Marr Chase.
29
Marquise Brown, BAL vs GB.  Even if Lamar Jackson (ankle) plays, Brown can't be ranked much higher than a mid-tier WR2 based on his recent production. After a strong start to the season, he's averaged just around 10 PPR points per game over the past four weeks, and since Tyler Huntley is our projected starter for Week 15, his floor is even lower than that against a top-10 unit in limited fantasy WRs. Rashod Bateman caught seven passes for 107 yards (mostly from Huntley), so perhaps Huntley favors Bateman. For now, we're not ready to make that declaration yet, though.
30
Christian Kirk, ARI @ DET
31
D.J. Moore, CAR @ BUF.  Whether it's P.J. Walker or Cam Newton under center for the Panthers, we're not confident in Moore's outlook in a matchup the No. 1 defense against fantasy WRs. He has drawn at least 10 targets and produced over 80 receiver yards in each of his past two games, but those performances were against two top-10 WR matchups. Ultimately, Moore is the No. 1 option in Carolina, but his ceiling is limited by a poor offense. Robby Anderson has come alive, but we're not trusting him in this matchup and he's just a boom-or-bust dart throw, too.
32
Kendrick Bourne, NE @ IND.  After a rough start to the season, Indianapolis is now just a neutral matchup for WRs, but Bourne has shown enough to be considered as a low-end WR3/flex option. He's best suited for standard leagues in a low-volume passing game, but he's been explosive and had a nose for the end zone thus far this season. He should be viewed as the Patriots' No. 1 WR, but Jakobi Meyers could present a safer floor in PPR leagues while Nelson Agholor continues to be a deep league touchdown-or-bust guy.
33
Jamison Crowder, NYJ @ MIA.  Crowder was outproduced by Braxton Berrios in Week 14, but we expect him to step into the de facto No. 1 WR role for Zach Wilson. Miami has dramatically improved on defense but still ranks as a top-five matchup for WRs. That said, Crowder's ceiling and floor are more attractive in PPR leagues, but he's a decent play in standard. Berrios can be considered in PPR leagues as a low-end flex.
34
DeVante Parker, MIA vs. NYJ.  Jaylen Waddle is having a dominant rookie season, but since Tagovailoa is attempting north of 35 passes/game this season, there is plenty of work to go around for other pass-catchers. In his first game back from a hamstring injury in Week 13, Parker caught all five of his targets for 62 yards. In the five games prior, he drew at least seven targets. All things considered, he's a top-notch flex option heading into a matchup with a struggling New York secondary.
35
Van Jefferson, LAR vs. SEA
36
Michael Gallup, DAL @ NYG.  Gallup's ceiling is obviously limited by target competition, but it appears he's at least regained his footing as Dak Prescott's No. 3 option over Dalton Schultz. If you need a solid 10 PPR points, he's your guy, but there are some options below that present higher upside.
37
Donovan Peoples-Jones, CLE vs. LV
38
Marquez Valdes-Scantling, GB @ BAL.  MVS was a bust against Chicago, but he's been in the league long enough to know that's always a risk. Again, if you need some safe PPR points, a guy like Gallup or Landry is the smart move. If you're shooting to the moon in standard leagues, MVS is a great dart throw in a matchup with the Ravens' injury-riddle secondary.
39
Kadarius Toney, NYG vs. DAL.  We're as tired of talking about Toney and Sterling Shepard as you are reading about them, but Dallas came into Week 14 as the sixth-worst defense against fantasy WRs, so either guy presents either solid upside (Toney) or a safe floor (Shepard) if Daniel Jones (neck) can play. Toney (quad) should be able to come back for Week 15, but if not, Shepard could sneak into the WR2 range.
40
Sterling Shepard, NYG vs. DAL.  See Kadarius Toney,
41
Michael Pittman Jr., IND vs. NE.  Pittman had a hot streak earlier in the season, but the Colts have fully transitioned to the Jonathan Taylor show, and we're not trusting Wentz and an ice-cold Pittman to deliver monster numbers against the Patriots in prime time. That said, his upside makes him a solid flex consideration. T.Y. Hilton should simply be benched here.
42
Jakobi Meyers, NE @ IND.  See Kendrick Bourne.
43
Russell Gage, ATL @ SF.  Gage is a tough sell in standard leagues, but he's got a floor of six targets and is operating as Matt Ryan's No. 1 WR. San Francisco's season-long numbers aren't bad against WRs, but they are trending toward being a favorable matchup for wideouts with the injuries suffered in the secondary.
44
Allen Robinson, CHI vs. MIN.  See Darnell Mooney.
45
K.J. Osborn, MIN @ CHI.  Osborn paid off against Pittsburgh, but he caught just three passes in the 83 yards and a touchdown effort. That gives us reason to believe he's a deep-play threat without a secure floor, but that spells for a solid flex option against an awful Chicago secondary.
46
Cole Beasley, BUF vs. CAR.  See Stefon Diggs.
47
Laquon Treadwell, JAX vs. HOU. Believe it or not, Treadwell is the No. 1 WR in Jacksonville and has more big-play upside than Marvin Jones Jr. You can consider both of those guys against a poor Houston defense, but we're out on Laviska Shenault Jr.
48
Robby Anderson, CAR @ BUF.  See D.J. Moore.
49
Tre'Quan Smith, NO @ TB
50
Josh Reynolds, DET vs. ARI
51
Braxton Berrios, NYJ @ MIA.  See Jamison Crowder.
52
Amon-Ra St. Brown, DET vs. ARI
53
Gabriel Davis, BUF vs. CAR.  See Stefon Diggs.
54
Marvin Jones, JAX vs. HOU.  See. Laquon Treadwell.
55
Rashod Bateman, BAL vs. GB.  See Marquise Brown.
56
Keelan Cole, NYJ @ MIA
57
Marquez Callaway, NO @ TB
58
DeSean Jackson, LV @ CLE.  See Hunter Renfrow.
59
Kenny Golladay, NYG vs. DAL
60
Courtland Sutton, DEN vs. CIN.  See Jerry Jeudy.
61
Nelson Agholor, NE @ IND.  See Kendrick Bourne.
62
Laviska Shenault Jr., JAX vs. HOU.  See Laquon Treadwell.
63
Lil'Jordan Humphrey, NO @ TB
64
Tyler Johnson, TB vs. NO
65
T.Y. Hilton, IND vs. NE.  See Michael Pittman Jr.
66
Allen Lazard, GB @ BAL
67
Mecole Hardman, KC @ LAC
68
Jalen Guyton, LAC vs. KC.  See Mike Williams.
69
Josh Palmer, LAC Vs. KC.  See Mike Williams.
70
Tyler Boyd, CIN @ DEN
71
Curtis Samuel, WAS @ PHI
72
Nico Collins, HOU @ JAX
73
Tim Patrick, DEN vs. CIN.  See Jerry Jeudy.
74
Quez Watkins, PHI vs. WAS
75
DeAndre Carter, WAS @ PHI
76
Jauan Jennings, SF vs. ATL
77
Bryan Edwards, LV @ CLE
78
Dee Eskridge, SEA @ LAR
79
Sammy Watkins, BAL vs. GB
80
Rondale Moore, ARI @ DET.
81
Kalif Raymond, DET vs. ARI
82
Zach Pascal, IND vs. NE
83
Zay Jones, LV @ CLE
84
Darius Slayton, NYG vs. DAL