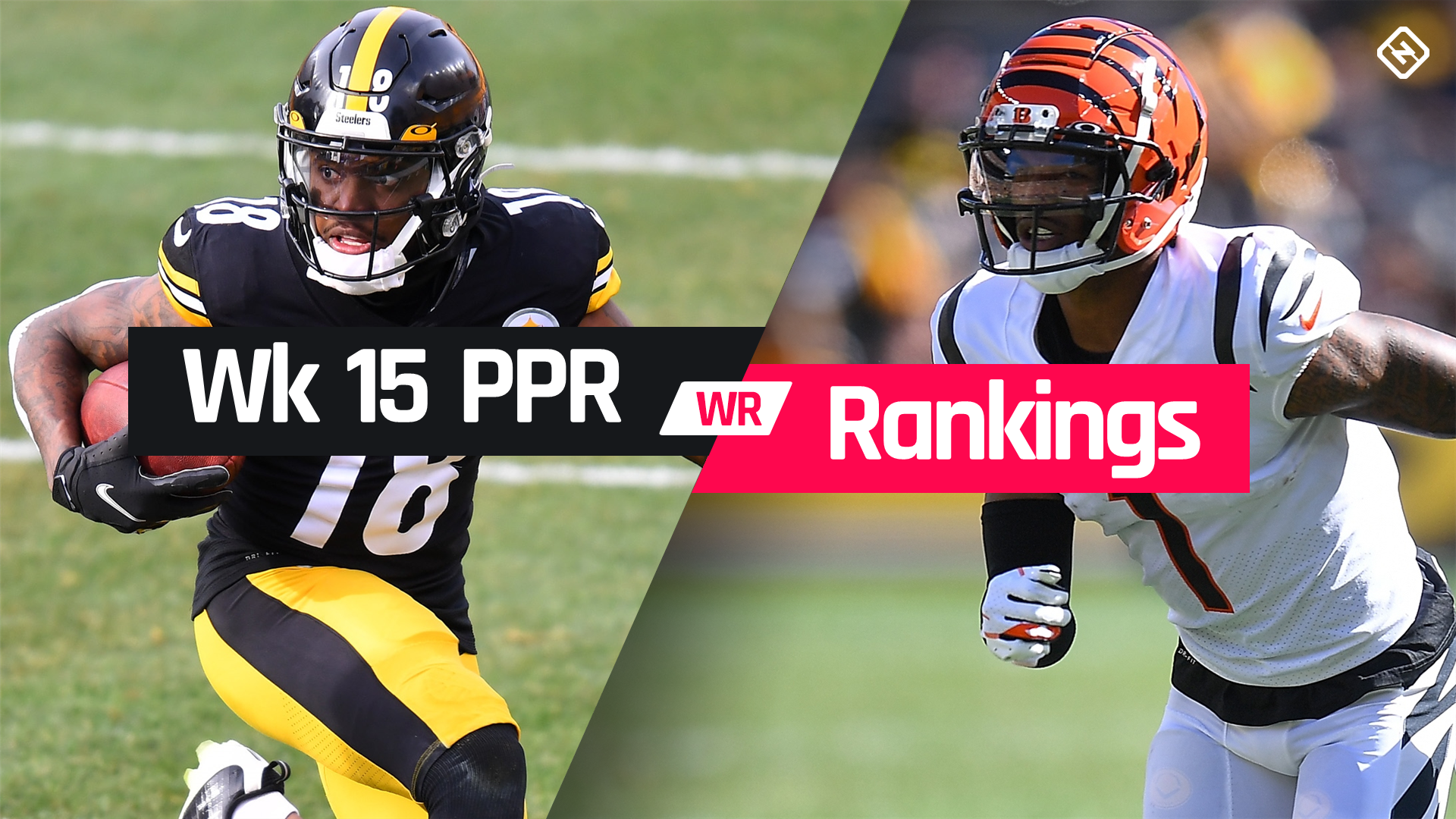 The ranks of wide receivers are always tough to work out, and our Week 15 Fantasy WR PPR rankings are some of the toughest we've had to put together all season. All 32 teams will be in action, so we don't have to worry about fighting for free week add-ons. However, owners of players like AJ Brown (chest), Antonio Brown (suspension) and more will still look for streamers or at least identify potential sleepers with favorable pairings. We are here to help with those tough start and sit decisions.
Tyreek Hill (@ Chargers) and Stefon Diggs (vs. Panthers) are as short as you'll ever see them, but we don't pretend you can bench them. Do not do it. The same goes for DJ Moore (@ Bills), DK Metcalf and Tyler Lockett (@ Rams), and the growing Tee Higgins (@ Broncos).
Field marshal | Running backwards | Tight end | D / ST | Kicker
If you're wondering whether you should start Jamison Crowder (@ Dolphins), DeVante Parker (vs. Jets), KJ Osborn (@ Bears), Darnell Mooney (vs. Vikings), Marques Valdes-Scantling (@ Ravens), or Michael Gallup (@ Giants), we say yes. They are all in a position to be successful in some of the best matchups a receiver can get, so while they have varying degrees of safety and advantage, play them in Week 15. MVS and Gallup are riskier in the LA leagues. PPR, as they often accumulate most of their value through big plays, but their matchups are favorable enough to take advantage of.
Field marshal | Running backwards | Wide receiver | Tight end | D / ST | Kicker
Kadarius Toney and Sterling Shepard (vs. Cowboys), Kendrick Bourne and Jakobi Meyers (@ Colts) and Allen Robinson (vs. Vikings) are also possible starting options this week. Robinson is the hardest to trust, but given the positive matchup and his overall talent, we would still be willing to relax him in the PPR leagues.
Digging deeper, guys like Nick Westbrook-Ikhine (@ Steelers), Laqauon Treadwell (vs. Texans), Braxton Berrios (@ Dolphins), and Tre'Quan Smith (@ Buccaneers) have appeal too, but they all have QB issues or are generally, he's not trustworthy. That said, they are not bad plays in deep leagues.
Josh Reynolds and Amon-Ra St. Brown (vs. Cardinals), TY Hilton (vs. Patriots), Cole Beasley and Gabriel Davis (vs. Panthers), Rashod Bateman (vs. Packers) and Courtland Sutton (vs. Bengals) are less than reliable to stay. at least, and while everyone has been productive here and there, this week does not set them up for success. Russell Gage (@ 49ers) also has one of the toughest WR matchups, but we don't blame him if you consider him the flexible spot in a PPR league based on the target numbers he has put together in recent weeks. However, watch out for it in standard. To a lesser degree, the same can be said for Michael Pittman (vs. Patriots).
Exhaust all options in the WRs and rely on matchups and target participation numbers to come out of the first round of the playoffs with a "W". Some men have higher ceilings, while others have higher floors. Find out what you most likely need and move on.
We will update these WR PPR rankings throughout the week, so check back for the latest player movement and analysis. For an individual review of the key WRs, click here.
Fantasy WR PPR Rankings Week 15: Who to start with as a wide receiver
Rankings based on score
| | |
| --- | --- |
| Rank | Player |
| one | Cooper Kupp, LAR v. SEA |
| two | Davante Adams, GB @ BAL |
| 3 | Justin Jefferson, MIN @ CHI |
| 4 | Chris Godwin, TB vs. NO |
| 5 | Diontae Johnson, PIT vs. TEN |
| 6 | Mike Evans, TB vs. NO |
| 7 | CeeDee Lamb, DAL @ NYG |
| 8 | Deebo Samuel, SF vs. ATL |
| 9 | Jaylen Waddle, MIA vs. NYJ |
| 10 | Keenan Allen, LAC vs. KC |
| eleven | Tyreek Hill, KC @ LAC |
| 12 | Stefon Diggs, BUF vs. CAR |
| 13 | Amari Cooper, DAL @ NYG |
| 14 | Brandin Cooks, HOU @ JAX |
| fifteen | Terry McLaurin, WAS @ PHI |
| sixteen | DeVonta Smith, PHI v. WAS |
| 17 | Tyler Lockett, SEA @ LAR |
| 18 | Julio Jones, TEN @ PIT |
| 19 | Ja'Marr Chase, CIN @ DEN |
| twenty | Darnell Mooney, CHI vs. MIN |
| twenty-one | Hunter Renfrow, LV @ CLE |
| 22 | AJ Green, ARI @ DET |
| 23 | Brandon Aiyuk, SF vs. ATL |
| 24 | Chase Claypool, PIT vs. TEN |
| 25 | DK Metcalf, SEA @ LAR |
| 26 | Marquise brown, BAL vs GB |
| 27 | Christian Kirk, ARI @ DET |
| 28 | Mike Williams, LAC vs. KC |
| 29 | Jerry Jeudy, DEN vs. CIN |
| 30 | Tee Higgins, CIN @ DEN |
| 31 | DJ Moore, CAR @ BUF |
| 32 | DeVante Parker, MIA vs. NYJ |
| 33 | Jamison Crowder, New York @ MIA |
| 3. 4 | Van Jefferson, LAR v. SEA |
| 35 | Kendrick Bourne, NE @ IND |
| 36 | Michael Gallup, DAL @ NYG |
| 37 | Donovan Peoples-Jones, CLE vs. LV |
| 38 | Jakobi Meyers, NE @ IND |
| 39 | Sterling Shepard, NYG vs. DAL |
| 40 | Kadarius Toney, NYG vs. DAL |
| 41 | Michael Pittman Jr., IND vs. NE |
| 42 | Russell Gage, ATL @ SF |
| 43 | Márquez Valdés-Scantling, GB @ BAL |
| 44 | Cole Beasley, BUF vs. CAR |
| Four. Five | Allen Robinson, CHI vs. MIN |
| 46 | Laquon Treadwell, JAX vs. HOU |
| 47 | Amon-Ra St. Brown, DET vs. ARI |
| 48 | KJ Osborn, MIN @ CHI |
| 49 | Robby Anderson, CAR @ BUF |
| fifty | Tre'Quan Smith, NO @ TB |
| 51 | Josh Reynolds, DET vs. ARI |
| 52 | Braxton Berrios, New York @ MIA |
| 53 | Marvin Jones, JAX vs. HOU |
| 54 | Rashod Bateman, BAL vs. GB |
| 55 | Keelan Cole, New York @ MIA |
| 56 | Gabriel Davis, BUF vs. CAR |
| 57 | Marquez Callaway, NO @ TB |
| 58 | Laviska Shenault Jr., JAX vs. HOU |
| 59 | Courtland Sutton, DEN vs. CIN |
| 60 | Kenny Golladay, NYG vs. DAL |
| 61 | Josh Palmer, LAC vs. KC |
| 62 | Jalen Guyton, LAC vs. KC |
| 63 | DeSean Jackson, LV @ CLE |
| 64 | Nelson Agholor, NE @ IND |
| Sixty-five | Lil'Jordan Humphrey, NO @ TB |
| 66 | Tyler Johnson, TB vs. NO |
| 67 | TY Hilton, IND v. NE |
| 68 | Allen Lazard, GB @ BAL |
| 69 | Tim Patrick, DEN vs. CIN |
| 70 | Tyler Boyd, CIN @ DEN |
| 71 | Mecole Hardman, KC @ LAC |
| 72 | Curtis Samuel, WAS @ PHI |
| 73 | Nico Collins, HOU @ JAX |
| 74 | Quez Watkins, PHI v. WAS |
| 75 | DeAndre Carter, WAS @ PHI |
| 76 | Jauan Jennings, SF vs. ATL |
| 77 | Bryan Edwards, LV @ CLE |
| 78 | Dee Eskridge, SEA @ LAR |
| 79 | Sammy Watkins, BAL vs. GB |
| 80 | Rondale Moore, ARI @ DET |
| 81 | Kalif Raymond, DET vs. ARI |
| 82 | Zach Pascal, IND vs. NE |
| 83 | Zay Jones, LV @ CLE |
| 84 | Darius Slayton, NYG vs. DAL |