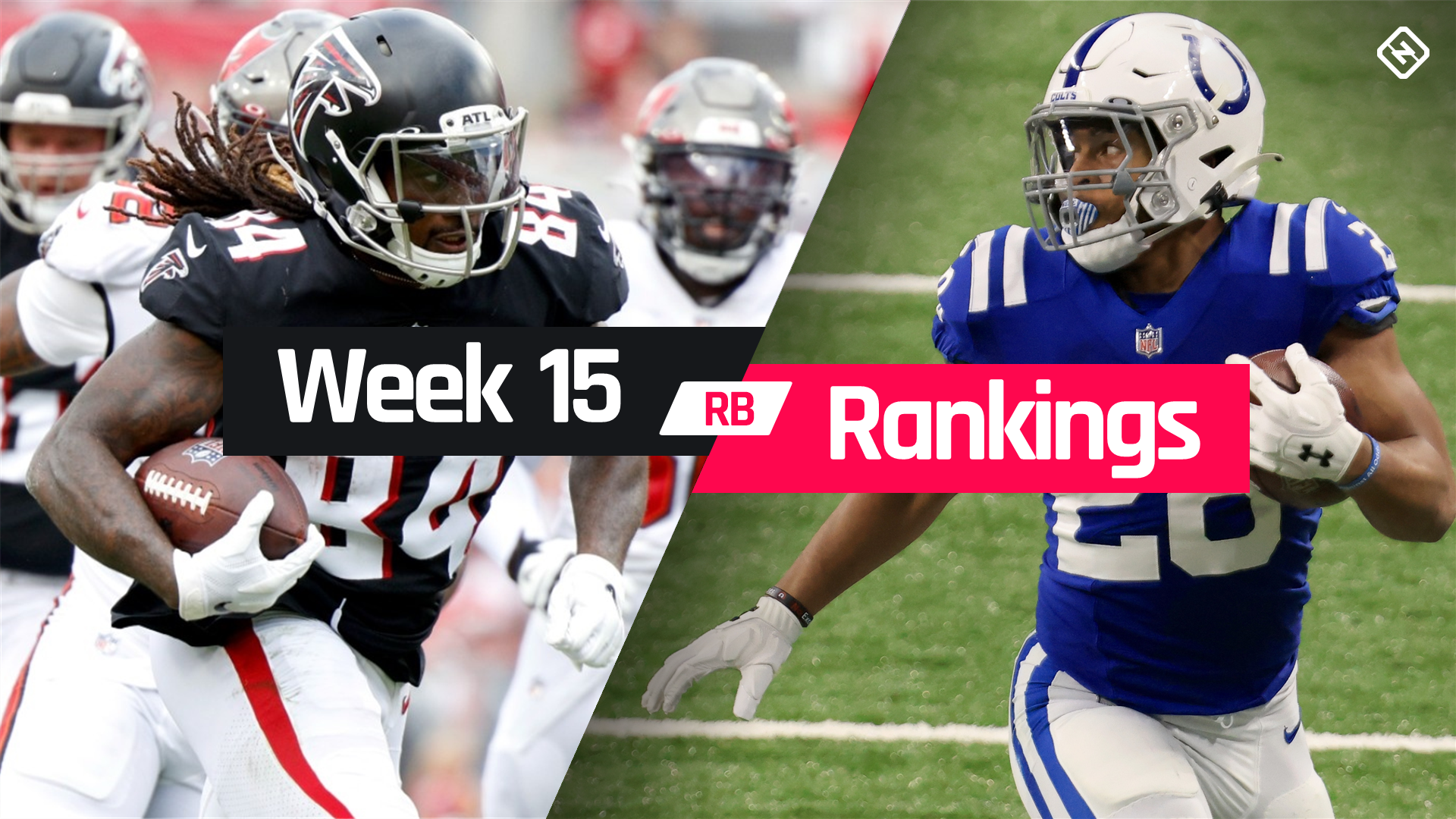 It's time for the second season of fantasy football, and every decision that begins, feel it, is under intense scrutiny. That's especially true in running backs, where injuries create constant stress. Our week 15 fantasy RB rankings may help ease some of the burden of finding studs, sleepers, and potential stumbles, but all "questionable" ones are likely to force multiple updates before kickoffs.
Fortunately, the byes were over, but some of the teams that came out, namely the Eagles and Patriots, had key injured backs in their last few games. That makes it difficult to project who will lead the way this week. The Eagles are an especially big mystery with Jordan Howard (knee) already hurt before Miles Sanders (ankle) took a hit and Boston Scott (illness) essentially missed out. Look for updates earlier in the week on those players.
Field marshal | Wide receiver | Tight end | D / ST | Kicker
Some of the best matchups this week are for riders who are not normally considered "RB1". Myles Gaskin (vs. Jets), Darrell Henderson (vs. Seahawks), James Conner and Chase Edmonds (@ Lions), and Clyde Edwards-Helaire (@ Chargers) are mandatory starts thanks to very favorable situations. Even D'Onta Foreman (@ Steelers) is in that group. They join the sagging James Robinson (against the Texans) as backs with top-five matchups (and, yes, Robinson is also a must-start if his no-show last week didn't knock him out of playoff contention).
Field marshal | Running backwards | Wide receiver | Tight end | D / ST | Kicker
Digging deeper, the Chargers duo of Justin Jackson and Joshua Kelley (vs. Chiefs), and the Houston duo of Rex Burkhead / Royce Freeman and David Johnson (vs. Jaguars) are also in good places, but it's always hard to trust backups. . those types of committees. The same goes for even the best wives in good matchups, like Tony Pollard (vs. Giants), Sony Michel (vs. Seahawks), Jeremy McNichols, and Dontrell Hilliard (@ Steelers) and Darrel Williams (@ Chargers). If Pollard (foot) is out again, it won't be worth using Corey Clement.
Of course, guys like Michel and Williams could still be in play on some of the headlines with bad matchups. There aren't a lot of guys on the edge standing out this week, as some of the toughest matchups are reserved for genuine studs like Jonathan Taylor (vs. Patriots), Najee Harris (vs. Titans), Leonard Fournette (vs. Saints), and Aaron. Jones (@ Ravens), but running backs like Rashaad Penny (@ Rams), Jamaal Williams (vs. Cardinals), Damien Harris and Rhamondre Stevenson (@ Colts), and Sanders / Howard (vs. Washington) are very much in the start-sit bubble. Penny will be hard to sit up after last week, and Harris (ankle) always has an upside TD when healthy, but these backs have lower floors than you think.
We're at that point in the season where there will be some surprise breakups, whether it's a third stringer starting his career for the first time (see Craiga Reynolds) or a wife playing more than expected in a particular game (see Penny). . Obviously, you can't plan any surprises in the game, but if you play match-ups, with a keen eye on recent trends as well as all season trends, and adapt to usage, you might be surprised by some of your lineup. decisions. But names don't matter now, winning does, and we'll be here to help you get those W.
We'll update these RB rankings throughout the week, so check back for the analysis and the latest player movement.
Fantasy RB Rankings Week 15: Who to Start as a Runner for
Ratings are based on score
| | |
| --- | --- |
| Rank | Player |
| one | Ezekiel Elliott, DAL @ NYG |
| two | Nick Chubb, CLE vs. LV |
| 3 | Jonathan Taylor, IND vs. NE |
| 4 | Dalvin Cook, MIN @ CHI |
| 5 | Joe Mixon, CIN @ DEN |
| 6 | David Montgomery, CHI vs. MIN |
| 7 | Clyde Edwards-Helaire, KC @ LAC |
| 8 | Myles Gaskin, MIA vs. NYJ |
| 9 | Cordarrelle Patterson, ATL @ SF |
| 10 | Najee Harris, PIT vs. TEN |
| eleven | Alvin Kamara, NO @ TB |
| 12 | James Robinson, JAX vs. HOU |
| 13 | Antonio Gibson, WAS @ PHI |
| 14 | James Conner, ARI @ DET |
| fifteen | Elijah Mitchell, SF vs. ATL |
| sixteen | Aaron Jones, GB @ BAL |
| 17 | Darrell Henderson, LAR v. SEA |
| 18 | Javonte Williams, DEN vs. CIN |
| 19 | Saquon Barkley, NYG vs. DAL |
| twenty | Josh Jacobs, LV @ CLE |
| twenty-one | Devonta Freeman, BAL vs. GB |
| 22 | Leonard Fournette, TB vs. NO |
| 23 | D'Onta Foreman, TEN @ PIT |
| 24 | Chuba Hubbard, CAR @ BUF |
| 25 | Chase Edmonds, ARI @ DET |
| 26 | Melvin Gordon, DEN vs. CIN |
| 27 | Michael Carter, New York @ MIA |
| 28 | Rashaad Penny, SEA @ LAR |
| 29 | Justin Jackson, LAC vs. KC |
| 30 | Miles Sanders, PHI vs. WAS |
| 31 | Damien Harris, NE @ IND |
| 32 | David Johnson, HOU @ JAX |
| 33 | Jamaal Williams, DET vs. ARI |
| 3. 4 | Joshua Kelley, LAC vs. KC |
| 35 | Rex Burkhead, HOU @ JAX |
| 36 | Jordan Howard, PHI v. WAS |
| 37 | Tony Pollard, DAL @ NYG |
| 38 | Sony Michel, LAR v. SEA |
| 39 | AJ Dillon, GB @ BAL |
| 40 | Rhamondre Stevenson, NE @ IND |
| 41 | JD McKissic, WAS @ PHI |
| 42 | Mark Ingram, NO @ TB |
| 43 | Devin Singletary, BUF vs. CAR |
| 44 | Darrel Williams, KC @ LAC |
| Four. Five | Phillip Lindsay, MIA vs. NYJ |
| 46 | Alexander Mattison, MIN @ CHI |
| 47 | Latavius ​​Murray, BAL vs. GB |
| 48 | Matt Breida, BUF vs. CAR |
| 49 | Ty Johnson, New York @ MIA |
| fifty | Dontrell Hilliard, TEN @ PIT |
| 51 | Jeremy McNichols, TEN @ PIT |
| 52 | D'Ernest Johnson, CLE vs. LV |
| 53 | Tevin Coleman, New York @ MIA |
| 54 | Carlos Hyde, JAX vs. HOU |
| 55 | Boston Scott, PHI v. WAS |
| 56 | Ameer Abdullah, CAR @ BUF |
| 57 | Devontae Booker, NYG vs. DAL |
| 58 | Peyton Barber, LV @ CLE |
| 59 | Samaje Perine, CIN @ DEN |
| 60 | Mike Davis, ATL @ SF |
| 61 | Nyheim Hines, IND v. NE |
| 62 | Craig Reynolds, DET vs. ARI |
| 63 | Alex Collins, SEA @ LAR |
| 64 | Jeff Wilson Jr., SF vs. ATL |
| Sixty-five | Godwin Igwebuike, DET vs. ARI |
| 66 | Ronald Jones II, TB vs. NO |
| 67 | Brandon Bolden, NE @ IND |
| 68 | Royce Freeman, HOU @ JAX |
| 69 | Jaret Patterson, WAS v. PHI |
| 70 | Khalil Herbert, CHI vs. MIN |