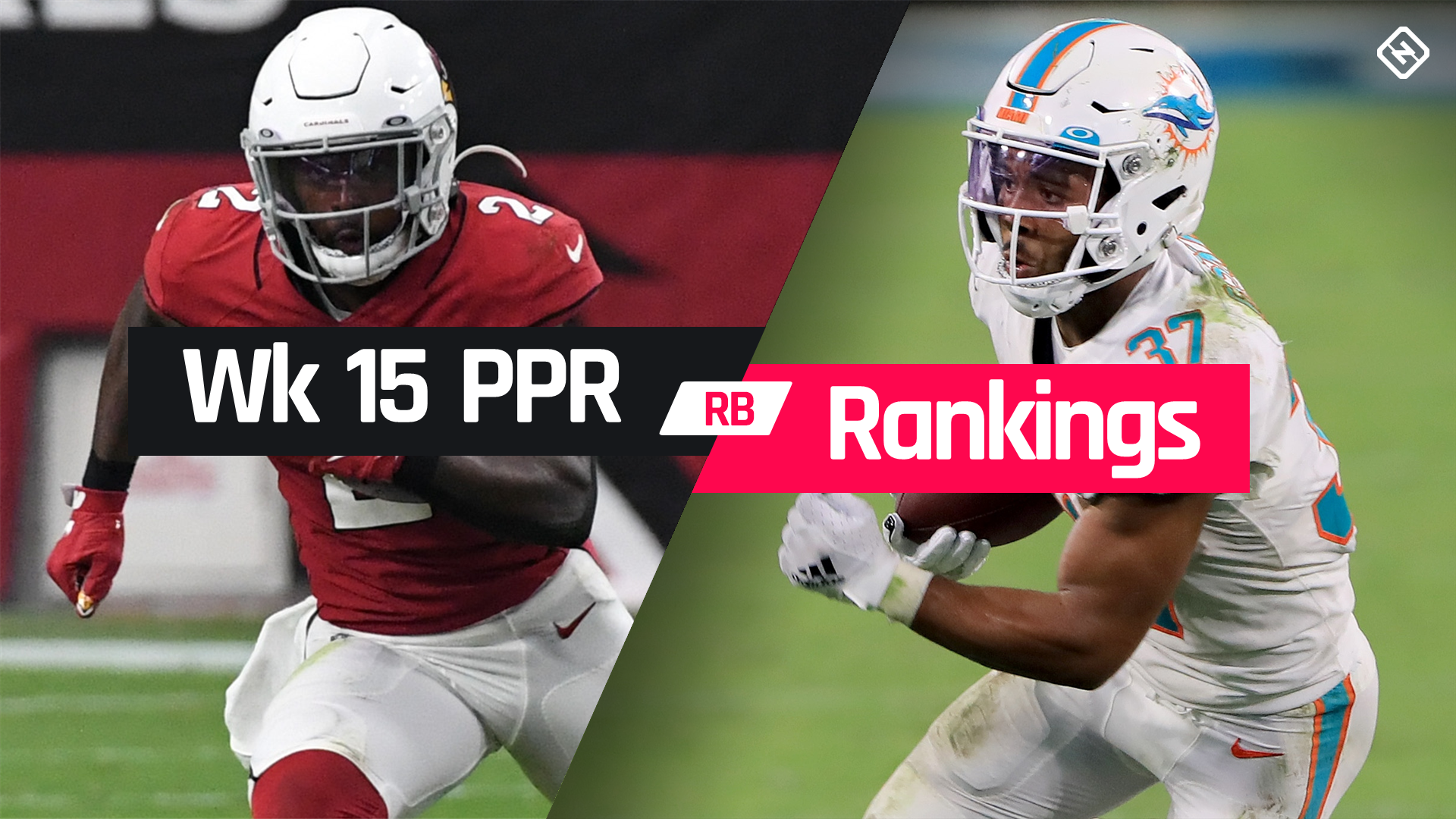 If you're still paying attention in your fantasy football league, then either you made the playoffs or you're just too competitive. Either way, this is a must-win week, and no position is more important to hit than running back. Our Week 15 Fantasy PPR RB Ratings Can Help You Get Over Injuries (D'Andre Swift, Elijah Mitchell, Tevin Coleman, Austin Ekeler) And Illnesses (Myles Gaskin, Darrell Henderson, Jamaal Williams) And Make The Right Start , sit 'em making.
Thankfully the byes are over, but we still have some intrigue with a couple of teams coming out of byes. Both the Patriots (Damien Harris) and the Eagles (Miles Sanders, Jordan Howard) had injury issues prior to Week 14, so we'll have to watch injury reports throughout the week. It doesn't help that the Patriots (@ Colts) and Eagles (vs. Washington) have tough matchups, putting all their backs on the starting position bubble.
Field marshal | Wide receiver | Tight end | D / ST | Kicker
There are plenty of other running backs with bad matchups, but plenty – like Jonathan Taylor (vs. Patriots), Leonard Fournette (vs. Saints), Najee Harris (vs. Titans), and Aaron Jones (@ Ravens) – remain must-haves. starts. Whoever starts the Lions (vs. Cardinals) is much more questionable, although Swift (shoulder) is always a must-play in PPR leagues when healthy and Williams is in play if he's active and Swift is out. If they both date again, then Craig Reynolds, yeah, the Craig Reynolds: It has a certain flexible value.
Field marshal | Running backwards | Wide receiver | Tight end | D / ST | Kicker
There are a lot of favorable matchups for some sick RBs. Myles Gaskin (vs. Jets), Darrell Henderson (vs. Seahawks) and Chase Edmonds (@ Lions) have three of the first five matchups, so if they're active, they should start. Clyde Edwards-Helaire (@ Chargers) and James Robinson (vs. Texans) are also in good places, as are several of these teams' backups. Although Sony Michel (vs. Seahawks), Phillip Lindsay (vs. Jets) and Darrel Williams (@ Chargers) aren't necessarily known for catching passes, they still have flexible value in the PPR leagues due to their elevated floors this week.
If you're looking for more edge plays in good situations this week, Tennessee's D'Onta Foreman (@ Steelers) and the Houston duo of David Johnson and Rex Burkhead (vs. Jaguars) should pay off as push-ups. Assuming Ekeler (ankle) is out, both Justin Jackson and Joshua Kelley have an advantage against the Chiefs. Jackson is a better pass receiver, so he gets the nod in the PPR leagues, but it wouldn't be a surprise if either one of them, or even rookie Larry Rountree III, led this backfield in fantasy points.
In general, list decisions cannot be finalized until later in the week as undoubtedly more men than expected will end up on the injury report and / or reserve / COVID list. Have your pivots ready so they don't get caught off guard.
We will update these RB PPR rankings throughout the week, so check back for the analysis and the latest player movement.
Fantasy RB PPR Rankings Week 15: who to start with as a runner
Ratings are based on score
| | |
| --- | --- |
| Rank | Player |
| one | Ezekiel Elliott, DAL @ NYG |
| two | Jonathan Taylor, IND vs. NE |
| 3 | Dalvin Cook, MIN @ CHI |
| 4 | Joe Mixon, CIN @ DEN |
| 5 | Nick Chubb, CLE vs. LV |
| 6 | David Montgomery, CHI vs. MIN |
| 7 | Najee Harris, PIT vs. TEN |
| 8 | Alvin Kamara, NO @ TB |
| 9 | Myles Gaskin, MIA vs. NYJ |
| 10 | Cordarrelle Patterson, ATL @ SF |
| eleven | Clyde Edwards-Helaire, KC @ LAC |
| 12 | James Robinson, JAX vs. HOU |
| 13 | Antonio Gibson, WAS @ PHI |
| 14 | Elijah Mitchell, SF vs. ATL |
| fifteen | Aaron Jones, GB @ BAL |
| sixteen | Javonte Williams, DEN vs. CIN |
| 17 | Saquon Barkley, NYG vs. DAL |
| 18 | James Conner, ARI @ DET |
| 19 | Josh Jacobs, LV @ CLE |
| twenty | Devonta Freeman, BAL vs. GB |
| twenty-one | Chase Edmonds, ARI @ DET |
| 22 | Leonard Fournette, TB vs. NO |
| 23 | Darrell Henderson, LAR v. SEA |
| 24 | D'Onta Foreman, TEN @ PIT |
| 25 | Justin Jackson, LAC vs. KC |
| 26 | Chuba Hubbard, CAR @ BUF |
| 27 | Melvin Gordon, DEN vs. CIN |
| 28 | Michael Carter, New York @ MIA |
| 29 | Rashaad Penny, SEA @ LAR |
| 30 | Jamaal Williams, DET vs. ARI |
| 31 | Miles Sanders, PHI vs. WAS |
| 32 | Damien Harris, NE @ IND |
| 33 | David Johnson, HOU @ JAX |
| 3. 4 | Rex Burkhead, HOU @ JAX |
| 35 | JD McKissic, WAS @ PHI |
| 36 | Joshua Kelley, LAC vs. KC |
| 37 | Jordan Howard, PHI v. WAS |
| 38 | Tony Pollard, DAL @ NYG |
| 39 | Devin Singletary, BUF vs. CAR |
| 40 | Sony Michel, LAR v. SEA |
| 41 | Darrel Williams, KC @ LAC |
| 42 | AJ Dillon, GB @ BAL |
| 43 | Rhamondre Stevenson, NE @ IND |
| 44 | Phillip Lindsay, MIA vs. NYJ |
| Four. Five | Ty Johnson, New York @ MIA |
| 46 | Dontrell Hilliard, TEN @ PIT |
| 47 | Jeremy McNichols, TEN @ PIT |
| 48 | Mark Ingram, NO @ TB |
| 49 | Alexander Mattison, MIN @ CHI |
| fifty | Latavius ​​Murray, BAL vs. GB |
| 51 | Matt Breida, BUF vs. CAR |
| 52 | Boston Scott, PHI v. WAS |
| 53 | Tevin Coleman, New York @ MIA |
| 54 | D'Ernest Johnson, CLE vs. LV |
| 55 | Nyheim Hines, IND v. NE |
| 56 | Ameer Abdullah, CAR @ BUF |
| 57 | Devontae Booker, NYG vs. DAL |
| 58 | Samaje Perine, CIN @ DEN |
| 59 | Mike Davis, ATL @ SF |
| 60 | Peyton Barber, LV @ CLE |
| 61 | Carlos Hyde, JAX vs. HOU |
| 62 | Craig Reynolds, DET vs. ARI |
| 63 | Alex Collins, SEA @ LAR |
| 64 | Jeff Wilson Jr., SF vs. ATL |
| Sixty-five | Godwin Igwebuike, DET vs. ARI |
| 66 | Royce Freeman, HOU @ JAX |
| 67 | Brandon Bolden, NE @ IND |
| 68 | Ronald Jones II, TB vs. NO |
| 69 | Jaret Patterson, WAS v. PHI |
| 70 | Khalil Herbert, CHI vs. MIN |